They say if at first you don't succeed, you should try, try again. This portly corgi takes that saying a little too seriously.
Try as he might, his little legs are just too short to hop the fence to get inside his house. It really makes me wonder...what's on the other side of the threshold?
I just wanna give his fluffy butt a little push!
video-player-present
And this isn't the first time a corgi's legs have held them back...the winter boot struggle is even more real with them.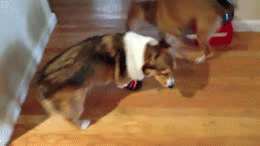 And stairs? Forget it!
This could go all night.
Juuusst outta reach.
It's okay, little guys. We still love you!