Even on the worst of days, there's something about looking at pictures of baby animals that just makes me feel better.
They're adorable, innocent, and have no idea that the world can sometimes be a cruddy place. If you're in need of some happy thoughts this week, look no further than these 21 baby animals. From tiny sloths to kittens to panda cubs, they're sure to put a smile on your face at a time when you probably really need one.
1. Welcome to the world, baby pup! You look brand-spanking new.
Read More: This Campaign Commercial Shows That Deep Down, We're Not All That Different
2. The only thing better than one kitty is two.
3. This baby otter has the cutest itch ever.
4. It looks like this little furball is asking for a tummy rub.
5. So much fang! So much fierce!
6. Can I keep it?! Pleeeeaaase.
7. The best way to nap is with all your toes facing the sun.
8. I never would have expected baby hippos to be cuddly, but behold!
9. One day you'll be big cats, but for now you're as cute as kittens.
10. Come to me, baby sloth!
11. What a sleepy little Arctic fox!
12. The baby fox is pooped, too. Good thing he can nap just about anywhere.
13. Now, here's an alert little fella. Hi, baby panda!
14. I would let this baby polar bear chase me down any day.
15. Well done, Mama. That's a nice herd of baby goats you have there.
16. Have you ever seen a penguin this tiny? I'm literally squealing with delight.
17. Chameleon babies are cute, too!
18. A desk duckling is a thing? How come no one told me?!
19. This baby sugar glider has a tail that's longer than she is.
20. I've never been so jealous of a toddler.
21. This kid has no idea how good he's got it.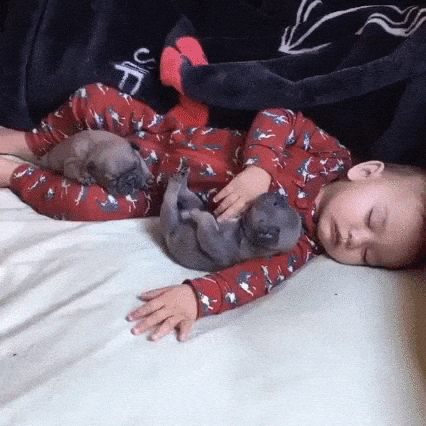 Read More: This Video Shows Just How Mean And Nasty Pit Bulls Are...LOL NOT
Oh, baby animals! Your cuteness get me every time. You always get my vote.