Does your family observe any New Year's Eve traditions? After seeing how these 15 cultures around the world ring in the New Year, I definitely need to step my game up!
Aside from drinking champagne and watching the ball drop, my family's never really observed any special New Year's Eve rituals. Sure, my uncle always gets drunk and someone almost always cries, but I wouldn't really call those traditions, would you?
Maybe if we'd all taken these superstitions into account last year, 2016 wouldn't have been so bad. This coming year is still a blank slate, so get ready to gather up some broken dishes, black-eyed peas, and ceremonial bear costumes. Things are about to get weird, but at this point, we'll do anything to guarantee an awesome 2017.
1. Ecuador - Burn A Scarecrow
In Ecuador, burning a scarecrow symbolizes a cleansing of last year's bad energy. After the year we all had, we might need a small straw army.
Read More: When Her Parents Replace Her Stuffed Animal With A Puppy, This Girl Loses It
2. Belarus - Ask A Rooster To Predict Your Love Life
Single women in Belarus ring in the New Year by sitting in a circle around a rooster. Each one then places a small heap of grain in front of her. Whichever one the rooster pecks first will be the first woman in the bunch to get married.
3. Latin America - Carry Around An Empty Suitcase
If you're eager to travel in the coming year, don't forget to lug around an empty suitcase on New Year's Eve. According to Latin American tradition, the practice will bring opportunities for adventure.
4. Estonia - Eat 12 Meals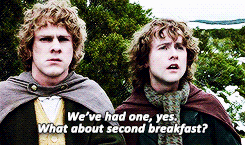 By eating 12 meals on New Year's Day, Estonians believe they are given the strength of 12 men. Personally, I'll take any excuse to feast like a Hobbit.
5. Spain - Eat 12 Grapes At Midnight
If you can't handle the thought of eating 12 meals in a day, eat 12 grapes at midnight instead. Supposedly, eating one grape for each stroke of midnight will provide you with 12 months of good fortune.
6. The American South - Eat Black-Eyed Peas
In the American South, collard greens, pork, and black-eyed peas make up a traditional New Year's Day dinner. Over time, this tradition has grown to associate luck with the black-eyed pears, particularly for whoever finds the ceremonial coin hidden in the serving pot.
7. Argentina - Eat Beans
What kind of beans, you ask? In Argentina, it doesn't matter! Eating beans at midnight is a fiscally responsible tradition, as legend says it will ensure job security in the coming year.
8. Romania - Perform Ceremonial Bear Dance
Ceremonial bear dances are an Ancient Roma tradition that takes place between Christmas and New Year's Eve. The real-life bear skins are a bit disturbing, but it's said to ward off bad luck.
9. China - Sweep Dirt Out The Back Door
China doesn't celebrate the New Year until late January or mid-February, but the day before the occasion, many observe the tradition of cleaning their houses from top to bottom. However, to make sure that no good luck is accidentally "swept away," they dispose of all dust and debris out the back door rather than the front. Then, so as not to disturb any other lingering luck, they abstain from cleaning their homes for at least two days after the New Year.
10. Denmark - Throw Broken Dishes At Your Neighbor's House
I would be seriously put out if someone threw broken dishes at my house, but in Denmark, it's considered to be a gesture of good fortune. While some opt to leave broken dishes on doorsteps, others, like the girl above, still follow tradition by chucking them right at their neighbors' homes.
11. South Africa - Toss Furniture Out The Window
No, South Africans aren't getting over bad breakups -- they're celebrating the New Year! Throwing furniture out the window supposedly gets rid of the "old" and makes way for the "new," but since several people have been injured in the process, many have stopped observing the tradition altogether.
12. Finland / Scandanavia - Pour Molten Tin Into Water
video-player-present
Supposedly, whatever shape molten tin takes when it's poured into water will symbolize what kind of year you'll have. I'm guessing there was a lot of turd-shaped tin last year.
13. Scotland - First Guests Of The Year Bring Gifts
In Scotland, the first guests of the New Year are required to bear gifts, such as whiskey, coins, or bread. This is one tradition I can definitely get behind!
14. Brazil - Toss Gifts And White Flowers Into The Ocean
We'd never suggest throwing a gigantic diamond into the ocean, but Brazilians provide Yemanja, an ocean spirit, with white flowers and other gifts in exchange for a year of strength and vitality.
15. The Phillipines - Make A LOT Of Noise!
Who doesn't love to make a ton of nose on New Year's Eve? I thought America was loud, but the people of the Philippines definitely have us beat.
Read More: Before You Judge This Man By The Way He Looks, Listen To His Very Important Life Lessons
Don't forget to share these New Year's Eve traditions with your friends and family! Have a safe and happy holiday!